Home to a large herd of whitetail deer, Fripp offers shelter in the forests of pine and oak but they can also be seen roaming freely throughout the island. Wildlife viewing is one of the draws to Fripp Island, and the deer live up to this activity. Many homeowners and visitors alike enjoy toodling around the island in a golf cart and often can see groups of deer hanging out in grassy areas, on beach dunes and along tree-lined streets.
Fun Fact
The whitetail deer was designated as the South Carolina state animal in 1972.
Whitetail Characteristics
Deer on the island are smaller than their northern counterparts. A typical adult female, or doe, will weigh about 100 lbs. while adult males, or bucks, average 140lbs. The underside of their body and tail are completely white while the remaining coat coloring changes with the season from a reddish-colored coat in the summer to a heavier, gray, or dark brown coat in the winter. Just before shedding in the spring, the island deer tend to look fluffy. Bucks begin growing antlers in April. As antlers consist of growing bone, they remain covered with blood vessels and nerves, or "velvet" skin, until the antlers harden in late August. Bucks generally shed their antlers in January and February.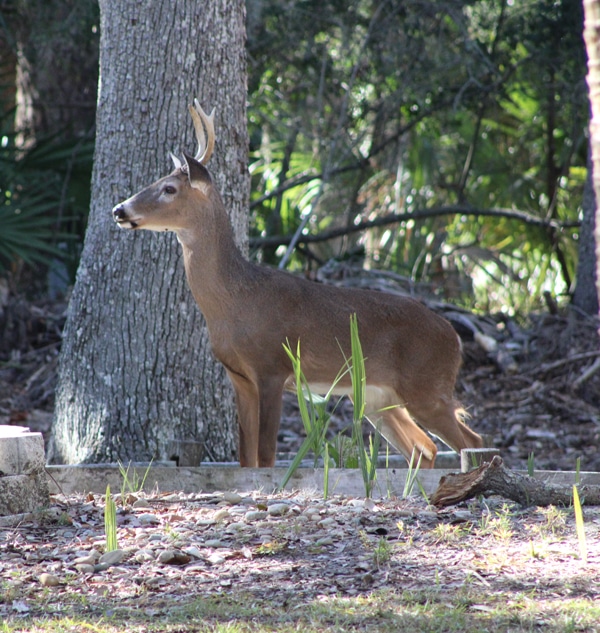 While many of the island's residents consider these animals their pets, seeing regular visits daily, it is important to respect their space and not touch or feed them. It is unsafe and unnatural for wild deer to become too friendly with humans. This can be especially critical with fawns. They often appear to be alone but you can be sure the doe is nearby. Any human handling could cause the doe to shy away or even desert her offspring. When it comes to feeding island deer, just don't. Any change in their diet can cause digestive issues as their system attempts to adjust to the new food. While it may seem harmless, it is not. Be kind to the island deer and do not interfere with their natural environment.
Fun Fact
Deer are herbivores and feed on leaves, fruits and grasses.
In the winter months they will also feed on mushrooms, acorns and plant buds.

According to a 2020 article from The Post and Courier, out of Charleston, there are approximately 400 deer that call Fripp home. A decade earlier there were about 600, when the island became eligible for a program that allowed female deer to be injected with birth control to manage population growth. It was a successful program and lead to stabilizing breeding and herd size. Whitetail breeding season on Fripp runs a little earlier than the rest of the state, beginning at the 1st of October through the 1st of November. New fawns will begin appearing around mid-May.
The wildlife on Fripp Island is endless and the herd of whitetail deer is sure to enhance your time on the island. Bring your binoculars and your camera on your next visit and you will be rewarded with great memories and great pictures to share.
Sources:
https://www.dnr.sc.gov/wildlife/species/deer.html
https://www.scencyclopedia.org/sce/entries/white-tailed-deer