Beautiful Wonder of Nature
Out of all the amazing creatures that live on Fripp Island the Loggerhead Sea Turtle is the pride and joy. Between mid-May and mid-October, huge female loggerhead sea turtles come ashore at night to lay their eggs. Approximately, two months later a swarm of adorable baby sea turtles will take to the beach. Waddling their way to the ocean.
From May to October each year, Fripp Island experiences a wonder of nature. It is during this time that the loggerhead sea turtles return to nest. Each year dozens of adult females come ashore, on various stretches of beach, to lay a clutch of 100 or more eggs. Many of these females were born on the island only to return some 20 to 30 years later to nest.
Each female will nest and lay eggs 3-5 times each season, digging an egg chamber near dunes away from rising tides. After laying her eggs, the turtle will return to the ocean before returning 12 to 14 days later to build another nesting spot. After the final nesting, turtles return to the ocean and will repeat the cycle every 2-4 years.
A sea turtle egg will incubate in about 60 days. This varies a bit with temperature, with warmer conditions leading to faster development of the embryos. Interestingly, cooler sand has a tendency to produce more males, while warmer sand produces more females. Once an embryos has fully developed, the hatchlings break out of their shell using "a temporary, sharp egg-tooth, called a 'caruncle.' The caruncle is an extension of the upper jaw that falls off soon after birth." (conserveturtles.org) Now out of their shells, the little hatchlings somehow know to emerge from the sand. Usually emerging at night when the temperature is milder, they dig their way up through about 18" of sand. As a group, the newborns paddle their way to the top before beginning their journey across the sand. This process of emerging can take several days.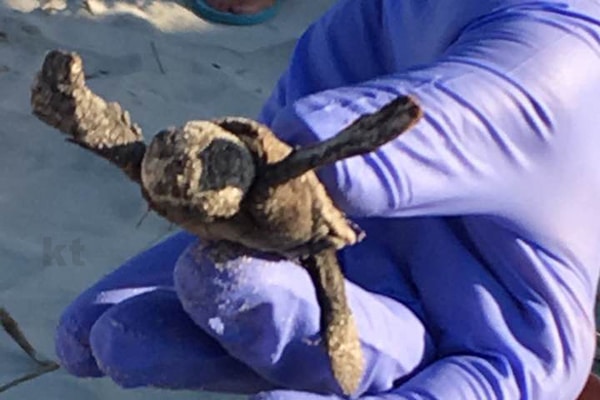 The journey to the sea is no small task for these little creatures. They must move quickly so as not to get dehydrated or become prey to birds or crabs. As mentioned earlier, many sea turtles return to the beach where they were born. Some scientists believe this is due to a turtle's ability to read the earth's magnetic field, while others believe the hatchlings takes an imprint of their birth beach, smell, sound, even celestial cues, while making the trek from nest to water. All pretty amazing, nonetheless.
Here on Fripp Island, we are blessed to be a key location for loggerhead nesting along the east coast of the US. With that, it is our responsibility to be good stewards of their habitat and respect their space. To that effort we have the Fripp Island Loggerhead Patrol, made up of volunteers, which monitors and marks nests along the beaches each day throughout the season.
See their photo albums and logs: 
Thank you, Fripp Island Loggerhead Patrol! We really appreciate all of your hard work.

Follow FILP on Facebook!
If you are fortunate and see an adult female nesting, or traveling to or from the ocean, it is very important to maintain a 20' distance and be sure to stay clear of her path. Also, do not use flashlights while walking on the beach. If you encounter the hatchlings rising from the sand, or making their way to the water, do not get near and, again, do not use any lighting. Hatchlings rely on the moon over the water to guide their way and can get easily turned around if another light source is nearby.
If you see a hatchling moving away from the ocean, DO NOT pick it up, as it is against federal law to touch a sea turtle without the proper permit. If you see a hatchling and are worried about the direction in which it is moving, please call Fripp Island Security or the Activity Center at (843)-838-1516. (Source: Fripp Island Resort)
The wonders of Fripp island are abundant and the seasonal nesting of loggerhead sea turtles is no exception. Enjoy from a distance and share in the amazing process that has been going on for more than 100 million years!
The Fripp Island Resort offers a Turtle Walk nature program to visit the nests and learn about these magnificent creatures.  May through September. 
☏ 843-838-1516