Grab your sunscreen and towels, you're headed to the beach!
Fripp Island is the hidden gem of the South Carolina coastline. The island's white sand stretches for three and a half miles where the waves of the Atlantic softly crash onshore.  Fripp beaches have beautiful dunes of white powdery sand that change often with the wind.  Leading down to the water, the gently sloping beach is perfect for long walks, wading and shelling.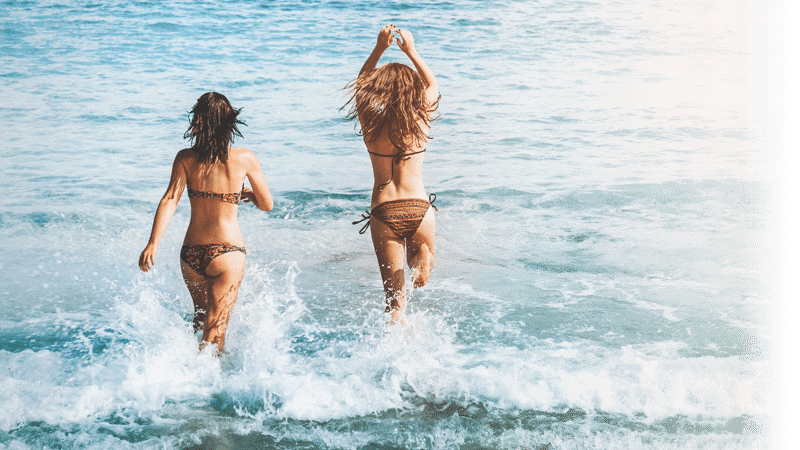 Lounging in the sun on Fripp beaches is truly paradise.  With so many access points around the island, it's easy to find your own private stretch.
Enjoy a dip after soaking up some rays; you'll find the water nice and warm in the summer at around 80°.  If you're visiting in the cooler months you may find the water refreshing at 60° or even cooler.  Might be a bit chilly for some.
If you're interested in a canopy and chairs, check out
Rental Items
for daily and weekly rentals.  Sit back and relax, you're on island time now.
Fripp Island tides are unique on the east coast as they ebb and flow through shallow marsh, inlets and along the coastline.  With up to 8' between low and high tide, the contours change often and bring in beautiful shells and sea life.  Shelling on Fripp is great during low tide; look for whelks, slipper shells, moon snails and clams.  Sand dollars can also be found, just be sure it is dead before you take it home; it will be white.  If it is gray, gently place it back in the surf.
Because the sand is exposed to the tides, it stays wet and compact.  This makes a perfect place to ride your bike, take a jog or skim board at the water's edge. And bring your buckets and shovels; this is the ideal sand to build a great sandcastle.  The Atlantic Ocean also offers nice waves on Fripp beaches, great for catching a swell on a boogie board. 
Bikes, Kayaks, Paddleboards...
Are dogs allowed on Fripp Island beaches?  Yes!
Fripp is home to the Loggerhead Sea Turtle. From May to October each year, Fripp Island experiences a wonder of nature.  It is during this time that the loggerhead sea turtles return to nest.  Each year dozens of adult females come ashore, on various stretches of beach, to lay a clutch of 100 or more eggs.  Fripp Island Resort offers a nature tour to experience this beautiful process.  If venturing out on your own, be sure to maintain a distance of at least 20' and do not use flashlights at night.   Learn more about the Loggerhead Sea Turtles.