Fripp Island is a fantastic family destination. There is something for everyone, including the kids.
For younger kids, Camp Fripp is the place to be. Enjoy a round of golf or tennis while the kids enjoy fun and educational (don't tell them!) activities with their siblings and peers. For outdoor adventures, Nature Tours offer daily outings for kids of all ages, parents too! There's even a Kid's Night Out.
Read more about all of these great options below. Most activities require a reservation, and some are seasonal, so be sure to call Fripp Island Resort for availability and scheduling.
Camp Fripp is a favorite of school-aged kids, ages 3-12, visiting the island. Memories are made as they join staff in activities and grand adventures. Each day, kids are guided with themes such as "Sports Day" or "Pirate Day" to enjoy crafts and venturing out to run, play and explore.  Learn more.
From Memorial Day to Labor Day, Camp Fripp runs Mon. thru Fri. - You can reserve by the day or by the week.
Half-Day
9:00am-12 noon for kids ages 3 - 12
Extended Day - For Swimmers
9:00am - 2:00pm for kids ages 5 - 12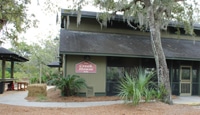 Camp Fripp is held in the Creek House building by Wardle's Landing, just behind the Activities Center on Veranda Beach Drive.  Bring sunscreen, insect repellant, hat, shoes & clothes that can get messy, muddy, and wet.  For extended day bring a swimsuit and towel.
Reservations are required each day, based on availability. ☏ 843-838-1516.
Kids of all ages will enjoy the Arts & Crafts sessions at the Activity Center.  For an hour or two each afternoon, kids can work on projects like painting a birdhouse or tie-dying a t-shirt with the guidance from recreation staff.  This is a great family option for a rainy day.
Program runs Mon. thru Fri. at the Activity Center.  Project vary by day.
Family Activity
Bring your kids and help them create a take-home treasure!
Pay Per Project
Projects are perfect for kids 3 and up and each varies in price per project. Parent supervision is appropriate.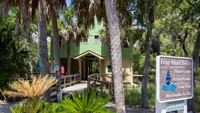 Arts & Crafts take place in the Activity Center on Veranda Beach Drive.  Wear your play clothes!
Sun, Mon, Tue, Wed, Fri:  2:00pm-3:00pm
Thu, Sat:  11:00am - 12:00pm
Call for more information and to learn about upcoming projects. ☏ 843-838-1516.
Your kids will build lasting memories when they join you on the many nature tours offered by Fripp Island Resort.  Discover the wonders of the island, from crabbing and ocean seining, to bike tours and gator walks.  Tours are conducted throughout the week, weather permitting.   Bring the family and get ready for adventure.

Family Activity
Bring your kids and create new memories!

Tours take place in the Activity Center on Veranda Beach Drive, unless otherwise indicated.
Call for more information and to learn about upcoming programs. ☏ 843-838-1516.
Get ready to splash and have fun!  Fripp has swimming pools at several locations around the island.  The Beach Club offers an Olympic-sized pool and a kids pool.  Venture over to the Cabana Club and you'll find a magical lagoon pool with waterfalls and caves and a kids' pool with a giant frog slide.  Depending on where you're staying, you may find the Ocean Point or Marina pools more convenient; or why not try them all!
Family Activity
Swim, splash and slide - so many choices!

Pools hours vary by season.
All of Fripp's on-island dining is family friendly.  But we all know sometimes you just want a basket of chicken tenders and a coke.  Check out these kid-friendly dining options.
Food Court – pizza, tacos, soft-serve ice cream
Cabana Club – indoor/outdoor dining, burgers, dogs, chicken fingers, salads
Marina Deli – snacks, sandwiches, cold drinks
Springtide Market Deli – breakfast all day, deli subs and pizza
Delicious Snacks and Ice Cream!
Something for everyone, between adventures or poolside.

Resort restaurant hours vary by season.   If you're looking for a quick lunch to-go, head over to the Marina Deli or Springtide Market Deli; they are open year-round. Club Cards are required for all of the on-island venues, excluding sandwich and snack options at Springtide Market Deli and the Marina Market.