Amazing Uninhabited Island
Pritchards Island is just southwest of Fripp and is only accessible by boat. This uninhabited island is owned by the University of South Carolina which conducts research on the island and welcomes daily visitors who enjoy strolling along the beaches and enjoying the barrier island's wildlife and tranquility.
Atlanta businessman Philip Rhodes donated the 1,600 acre island to the University of South Carolina in 1983 with the condition it not be developed commercially but rather used for coastal research.  Students would stay in the "old stilt house", the Rhodes Research Center, while studying the ecosystems on the island and managing the preservation of the loggerhead sea turtles that nest on the island.  The island is still managed by USCB and is used for education, conservation and research purposes by the University, other state institutions, and the general public.

In October of 2022, the abandoned research lab was removed, section by section, and hauled off on a barge.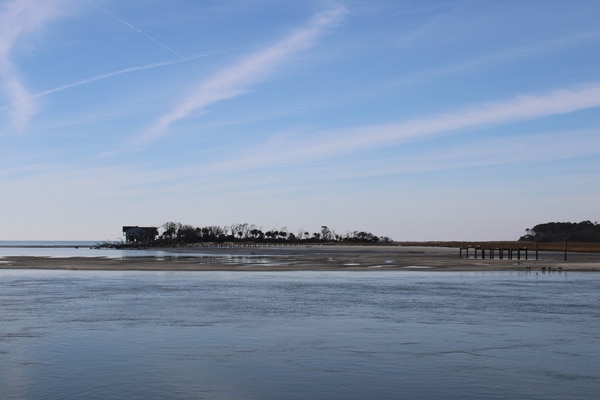 For several years, the Beaufort County Arts Council collaborated with USCB to hold an annual artist retreat on Pritchards. Each artist was required to provide a piece of art that became the Pritchards Island Collection.
That collection now hangs in the library at the Hilton Head Gateway campus. (Source: Island Packet 2015)
If you're looking for an adventure, visit Pritchards by kayak or canoe.  The Fripp Island Resort offers guided canoe trips that launch off the beach behind the Cabana Club.  It's a great way to safely navigate the swift current that runs through Skull Inlet and learn more about the barrier islands. Contact the Activity Center for more information and reservations.
If you're ready to head out on your own, you can check tides and head over in your kayak or canoe.  Single and tandem kayaks are also available to rent at Island Excursions.  Once you get to Pritchards, you'll enjoy the peace and quiet of the island while strolling, shelling and exploring.
One of Beaufort County's most nested beaches, Pritchards Island is host to Loggerhead Sea Turtles between May and October.  A group of dedicated volunteers patrol the island during nesting season to protect, mark and even relocate nests when necessary. Learn more about loggerheads - they're truly amazing!
Pritchards Island is host to both shorebirds and seabirds throughout most of the year - in the summer for nesting, and as a rest and refuel layover during their epic spring and fall migrations.
Nests are laid in shallow scrapes in the sand that blend in very well to their surroundings. While raising their young in the summer, it is imperative that adult birds keep eggs and chicks shaded to prevent predation and overheating in the summer sun, like the Least Tern is doing in this photo.
With North American shorebird and seabird populations in steep decline from habitat loss, predation and human disturbance, every piece of natural habitat remaining is critical for their survival. Help us protect these birds while enjoying the beach by keeping these actions in mind:
Walk around flocks of birds, not through them, so they can rest and feed
Respect signage on the beach indicating where birds are nesting and/or resting
Leash your dog near birds, because even friendly dogs look like predators to them
There's lots to learn about birds in the Lowcountry - there are hundreds of different species to be found. Thank you for helping to protect our local wildlife!